Post Perspectives: Behind the title with our HoP, Jess.
Get to know our Head of Production, Jessica Garcia-Scharer
Back
Post Perspectives: Behind the title with our HoP, Jess.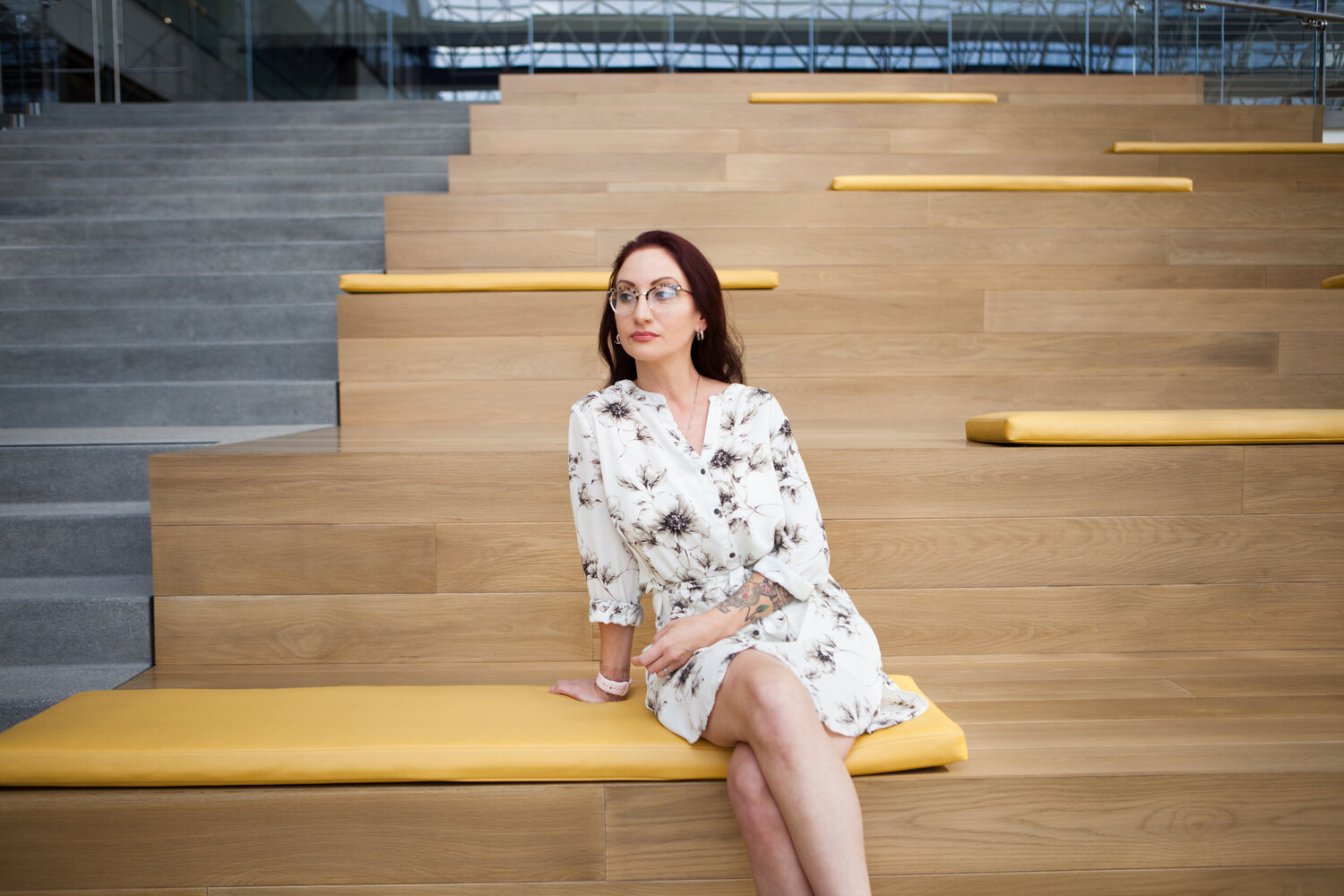 CAN YOU DESCRIBE YOUR COMPANY?
We are a creative marketing agency. We make strategically informed branding and creative — and then help to get it out to the world in memorable ways. And we use strategy, design, planning and technology to do it.
WHAT'S YOUR JOB TITLE?
Head of Production
WHAT DOES THAT ENTAIL?
Head of production means different things at different companies. I'm the three-ring binder with the special zip pack that helps to hold everything together in an organized manner. Everything from hearing and understanding client needs, creating proposals, managing budget projections/actuals/contracts, getting in the right talent for the job, all the way to making sure that everyone in-house is happy, balanced and supported.
WHAT WOULD SURPRISE PEOPLE THE MOST ABOUT WHAT FALLS UNDER THAT TITLE?
Probably the proposals and planning charts. I'm also "Snack Mom!"
WHAT'S YOUR FAVORITE PART OF THE JOB?
Snack Mom. Ha! My favorite part of the job is being part of a team and bringing something to the table that is useful. I like when my team feels like everything is being handled.
WHAT'S YOUR LEAST FAVORITE?
If and when there isn't enough quiet time to get into the paperwork zone.
WHAT IS YOUR FAVORITE TIME OF THE DAY?
At work: When I get in early and no one is in yet. I get the most work done during that time. Also lunch. I try to make it a point now to get out to lunch and take co-workers with me. It's nice to be able to break up the day and be regular people for an hour.
Non-work-related: When the sun is just coming up and it's still a little brisk outside, but the air is fresh and the birds are starting to wake up and chirp. Also, when the sun is starting to descend and it's still a little warm as the cool ocean breeze starts to come in. The birds are starting to wind down after a hard day of being a bird, and families are coming together to make dinner and talk about their days (well… on the weekend anyway). I am obviously very lucky, and I know that. There are many that don't get to experience that, and I think of them during that time as well.
IF YOU DIDN'T HAVE THIS JOB, WHAT WOULD YOU BE DOING INSTEAD?
It depends on if I were independently wealthy or not, and where I had been previously. Before going to college, I wanted to be a VFX make-up artist, a marine biologist working with dolphins or a park ranger in Yosemite.
If I were independently wealthy, I would complete a painting collection and put up an art show, start a female/those-who-identify-as-female agency, open up a vegan restaurant and be a hardcore animal activist.
HOW EARLY ON DID YOU KNOW THIS WOULD BE YOUR PATH?
I wish people thought about their careers as more than one path. I have many paths, and I don't think I'm done just yet. You never know where life will take you from one day to the next, so it's important to live for today.
CAN YOU NAME SOME RECENT PROJECTS YOU HAVE WORKED ON?
CNN 2020 Election promo package, ESPN 40th Anniversary and another that is pretty neat and a big puzzle to figure out, but I can't tell you just yet…
WHAT IS THE PROJECT THAT YOU ARE MOST PROUD OF?
I technically work on everything, so they're all my babies, and I'm proud of all of them for different reasons. Most, if not all, of the projects that we work on start out with a complex puzzle to solve. I work with the team to figure it out and present the solution to the client. That is where I thrive, and those documents are what I'm most proud of as far as my own personal accomplishments and physical contributions to the company.
NAME THREE PIECES OF TECHNOLOGY YOU CAN'T LIVE WITHOUT.
Water filtration systems, giant greenhouses and air conditioning will be vital because of global warming.
For work, it would be really hard to function without my mobile phone, laptop and headphones.
WHAT SOCIAL MEDIA CHANNELS DO YOU FOLLOW?
Mainly Instagram and Facebook. Facebook is where I learn about events/concerts/protests coming up, keep tabs on people's birthdays, weddings, babies and share my thoughts on factory farming. Instagram is mindless eye candy for the most part, but I do love how close I feel to certain communities there.
DO YOU LISTEN TO MUSIC WHILE YOU WORK? CARE TO SHARE YOUR FAVORITE MUSIC TO WORK TO?
Usually binaural beats (for focus and clarity) and new age relaxation; but if I'm organizing and cleaning up, then The Cure, Bowie, Duran Duran, Radiohead and Bel Canto.
WHAT DO YOU DO TO DE-STRESS FROM IT ALL?
As I mentioned before, it's important to take a lunch break and bond with co-workers and old friends. Taking a step away and remembering that I am a human being living a life that needs to be enjoyed is key to a happy work-life balance. We aren't saving lives here; we are making fun things for fun people, so as long as you have the systems and resources in place, the stress is the excitement of making things that exceed expectations.
But if I do let things get to me, the best de-stressor is getting home and into my PJs and snuggling up with my family and animals… drowning myself in the escape of love. Oh, and dark chocolate (vegan, of course).
Stay in touch with your compadres